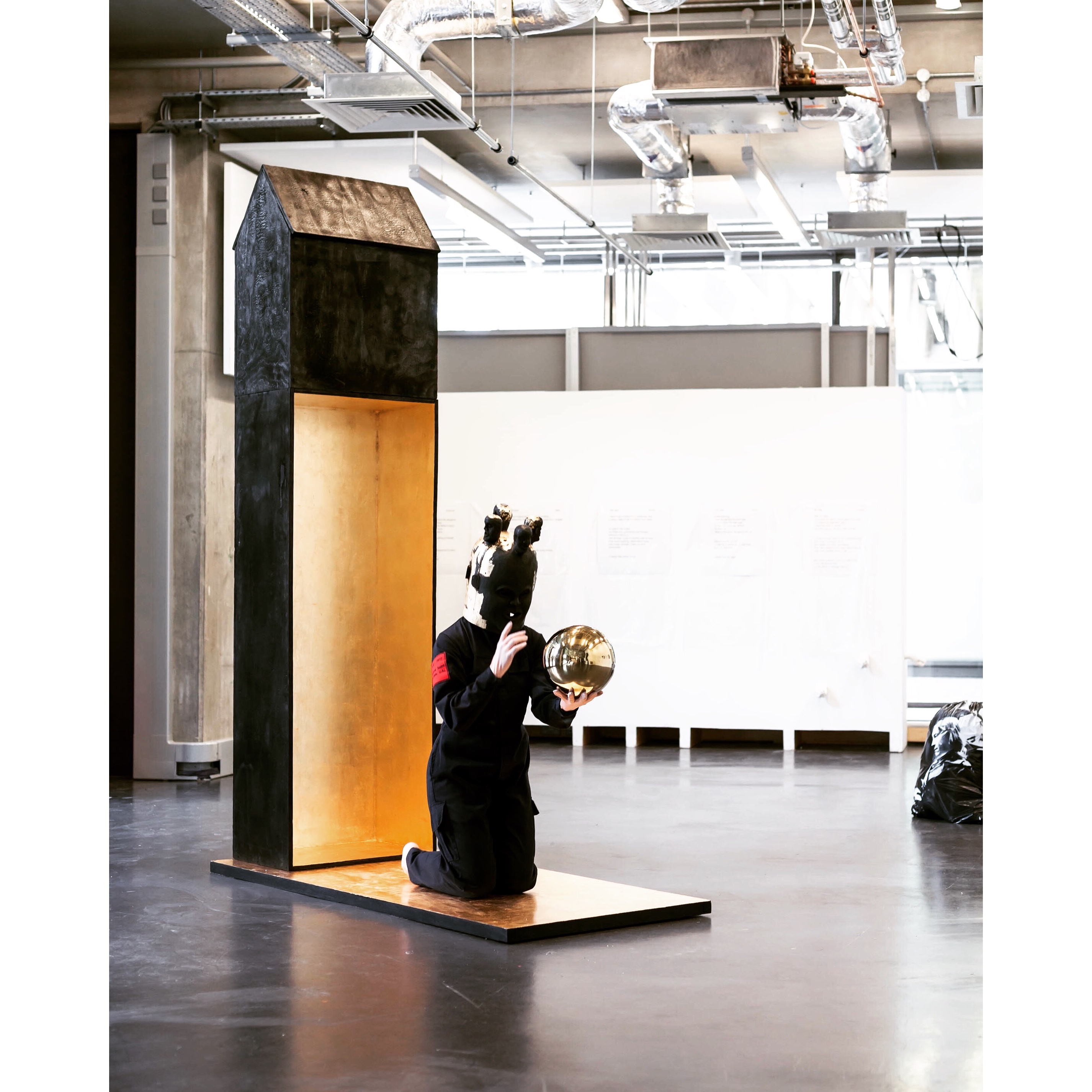 Photo © Anni Katrin Elmer
Father
Sculpture & durational performance (30 hours)
Burnt wood, steel, gold leaf, tribal mask, costume
270 x 198 x 84 cm
2017


Existing in an age of technocapitalism, which renders a body into a mechanical and scientific property and objectification, the artist returns to a recurring theme of exile and dwelling.

The work sculpturally adapts a power symbol of the gold tower. Using the ancient Japanese method Shou Sugi Ban of wood burning to transgressively create its fall, leaving the charred monolith as a monument of our time.

In the frame of black box, the body is installed as a medium for photography, to move away from ubiquity of representation and flat imagery into a process of performativity, where the body becomes a surveillance machine. Clad in a Janus tribal helmet mask, military fighter overalls atop second skin morphsuit covering every inch of human skin, this epicene performer shifts from humanoid gestures, to personifications of VR and CCTV systems, the golden gazing ball in its hands follows, mesmerises and absorbs the image of every spectator.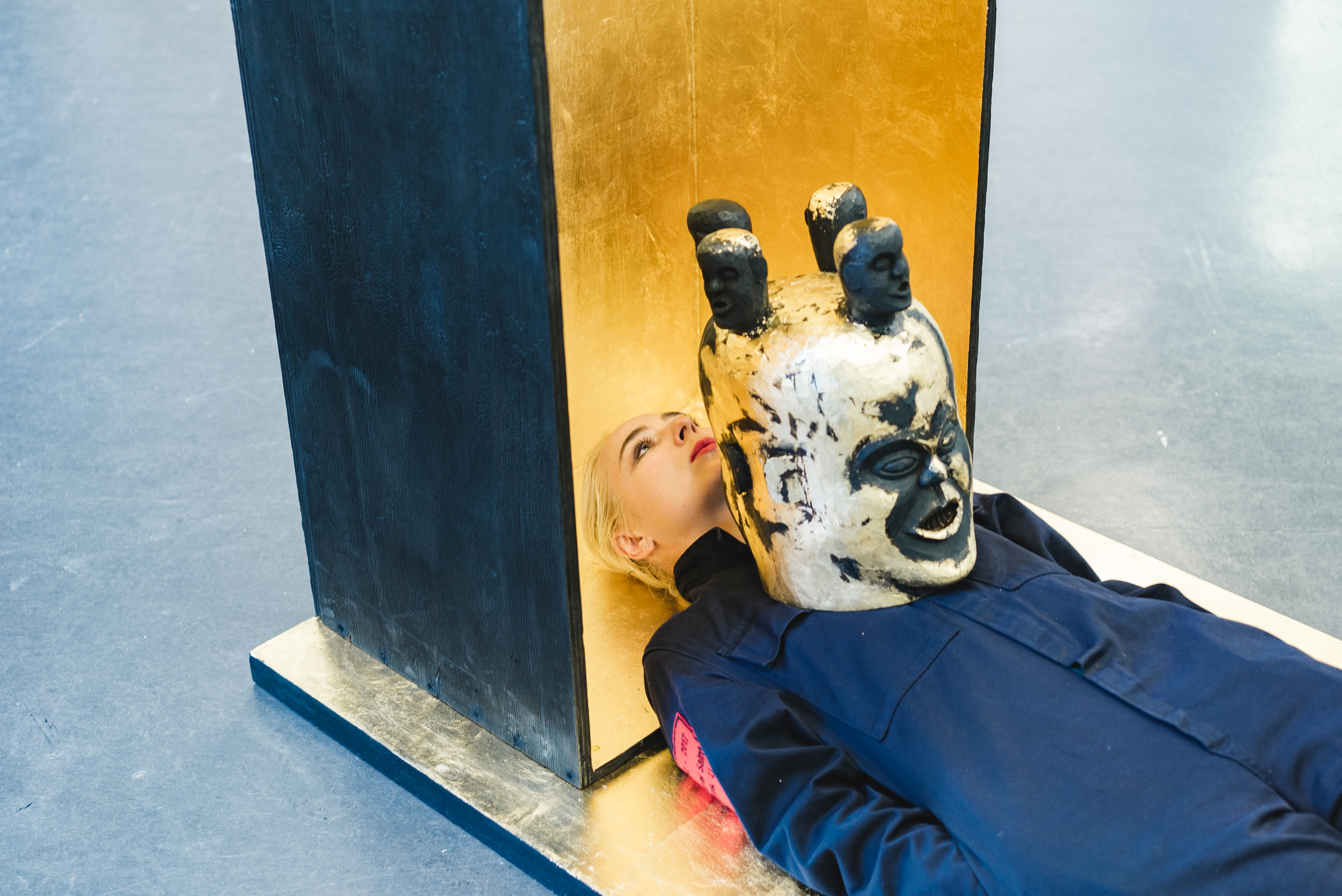 Photography © Ben Lansky
Tension
Sculpture
Burnt wood, shellac, stainless steel
60 x 25 x 25 cm
2017
Created for and exhibited at the group exhibition at Galeria de Arte Mexico (GAM) in Mexico City the work is a response to the theme of 'being at two places at the same time'. Exhibited at the same time as
The Father, 2017
in London, the work is a sculpture which comes alive with the encounter of exhibition visitors reflections co-existing between two cities. Combining materials from nature and industry to create an artefact of technology which holds and suggests both tension and tranquility.

Video by JJ Lincoln, Julia Wolf, Carolina Escobar, Anni Katrin Elmer


Spleen, 2017
Performance (3 hours) & Installation
(with Aaliyah, Carolina Escobar, Nevena White, Emily Poynton)
Mixed media
Dimensions variable
2017



Inspired by Baudilaire's Spleen and taking photography as a point of departure where the proces supersedes content, The work attempts to look at a technological process within human relations. Faced with a technological structure which both underlines and diminishes a structure of a social circle, repetition, isolation of language and binary symbolism is used through durational performance to zoom in on daily gestures and codes of technology that make up the cycle.

Gestures and echoes of: "like" "block" "delete" "follow" from performers are like those of the Greek chorus commenting on the collective consciousness of our time. Matching historically valued and invested materials, forms and motifs with contemporary matter, from gold and Oedipus feet to where thumbs, hands and heads dominate the body...Here, body and language are tools as much as inconveniences, sacrificed for an image. The desire to possess and leave a mark is as much desired as never acquired.

The exhibition was hosted by Lincoln Projects.



Photography © Henri Kisielewski

Photography © Carolina Escobar
Photography © Andrew Stys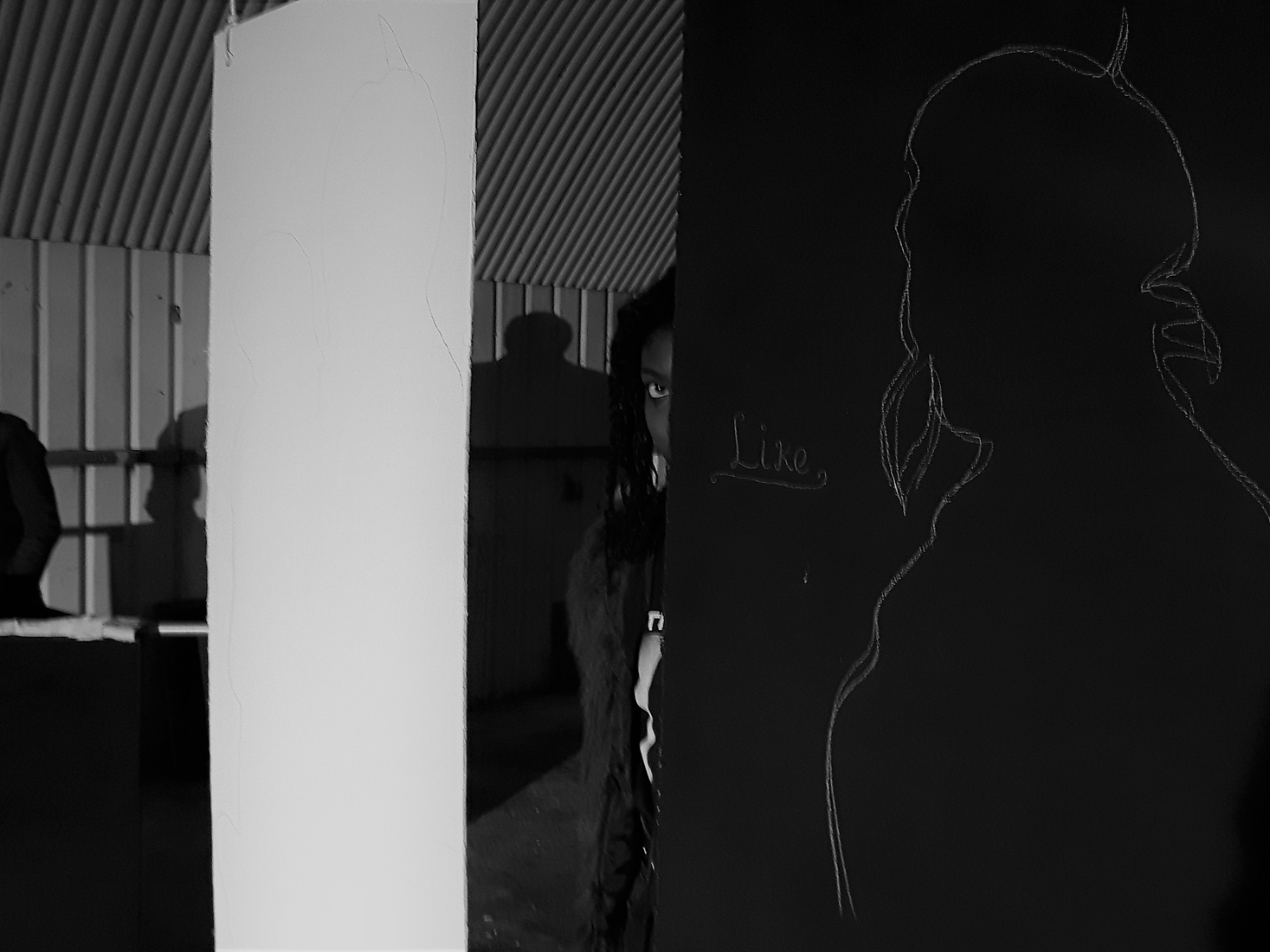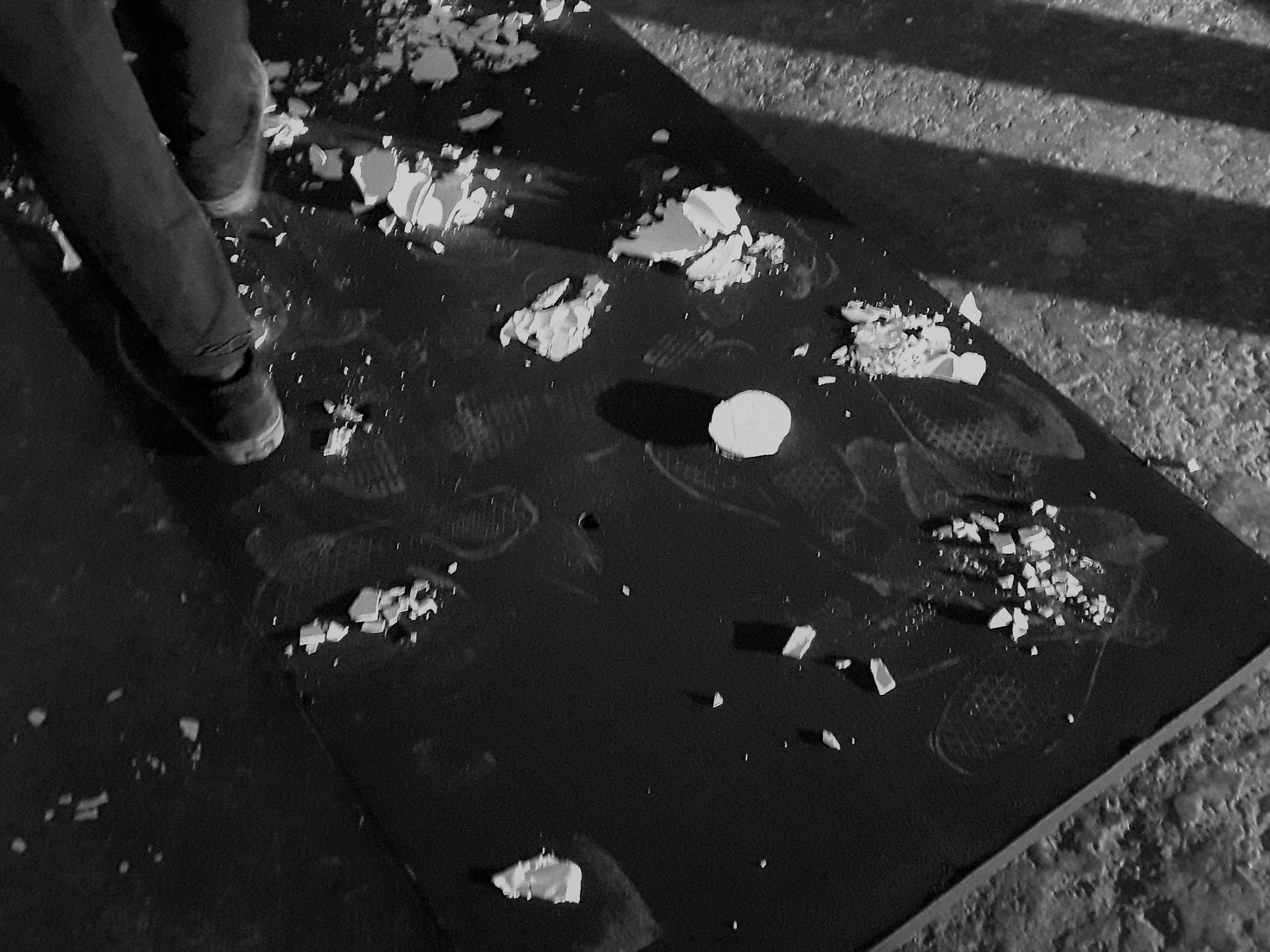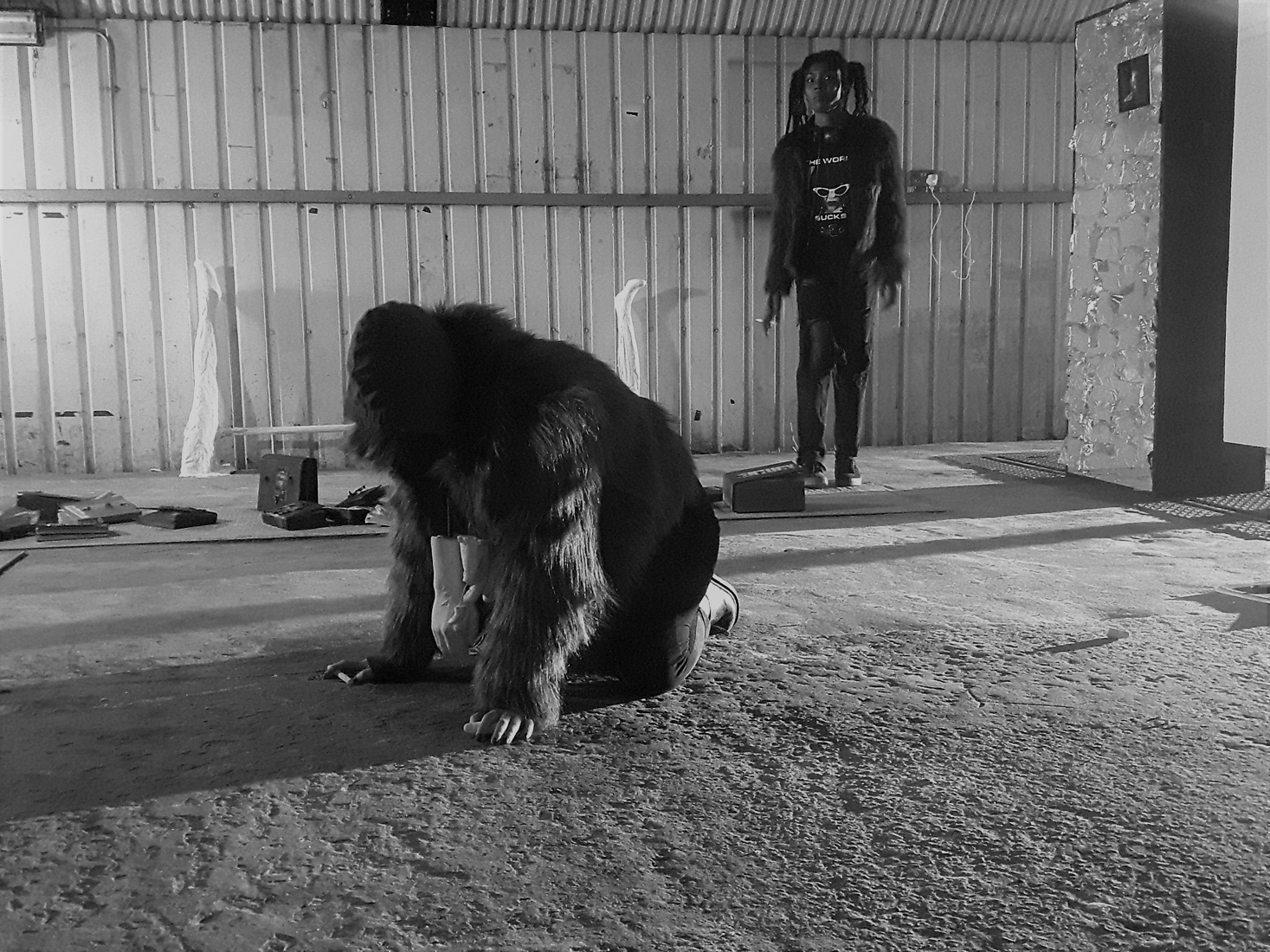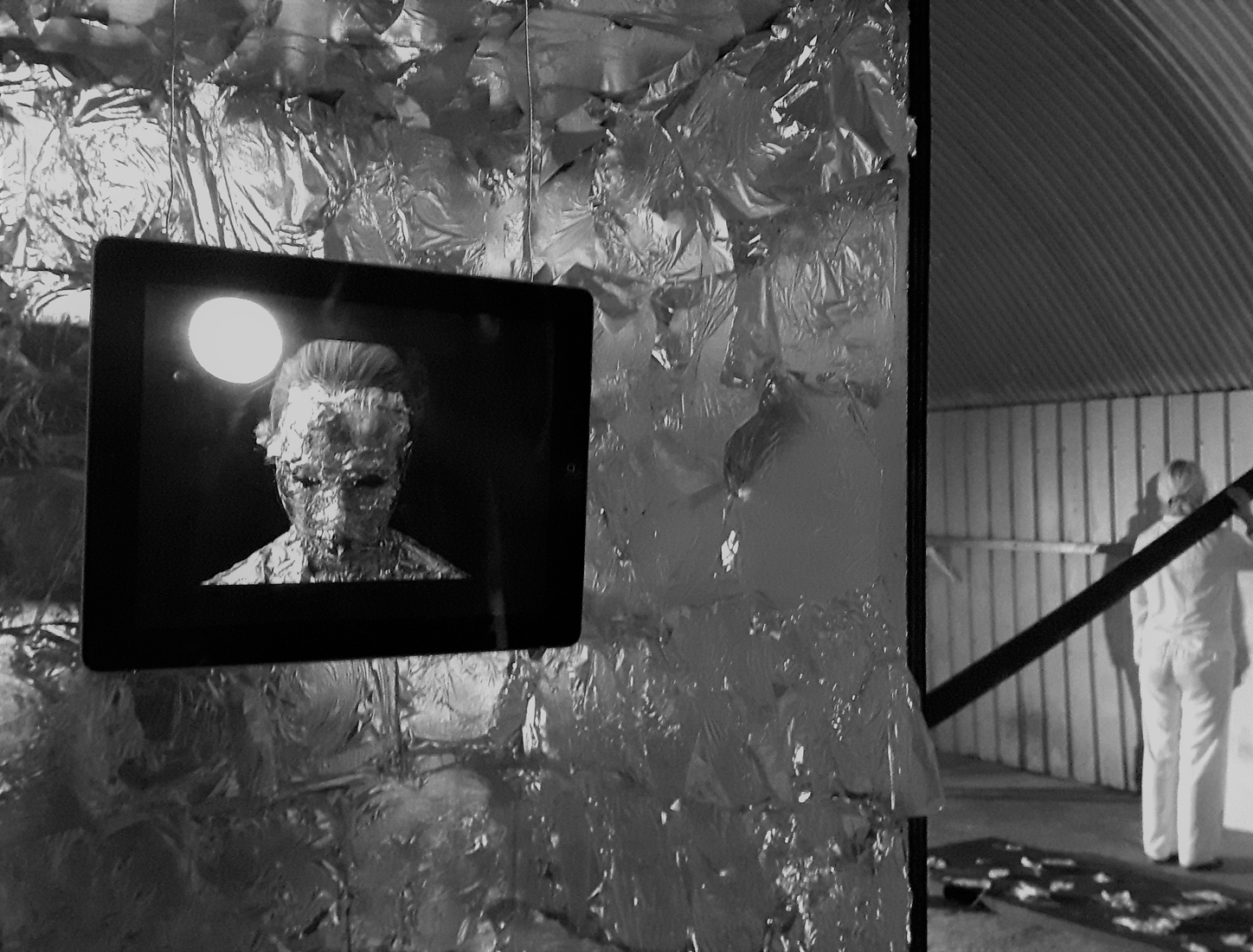 Photo © Ben Lansky
Burial of the Dead
Sculpture & 4 hours performance
Soil, charcoal, gold leaf, goatskin, rope, lard, shoes
200 x 160 cm
2017


Created during a period of grief, the work is an elegy to the artist's late friend Alice de Barrau. Installed ceiling to floor and realised as a 4-hours enduring performance. It sculpts the space using geometrical shapes and decaying materials to allude to mortality and transience of life. Its shifting perspective, impolite occupation of space and fierce bodily tension presented in performance interrupts and obstructs the flow of reason.

Its title is a reference to T.S. Eliot poem The Wasteland.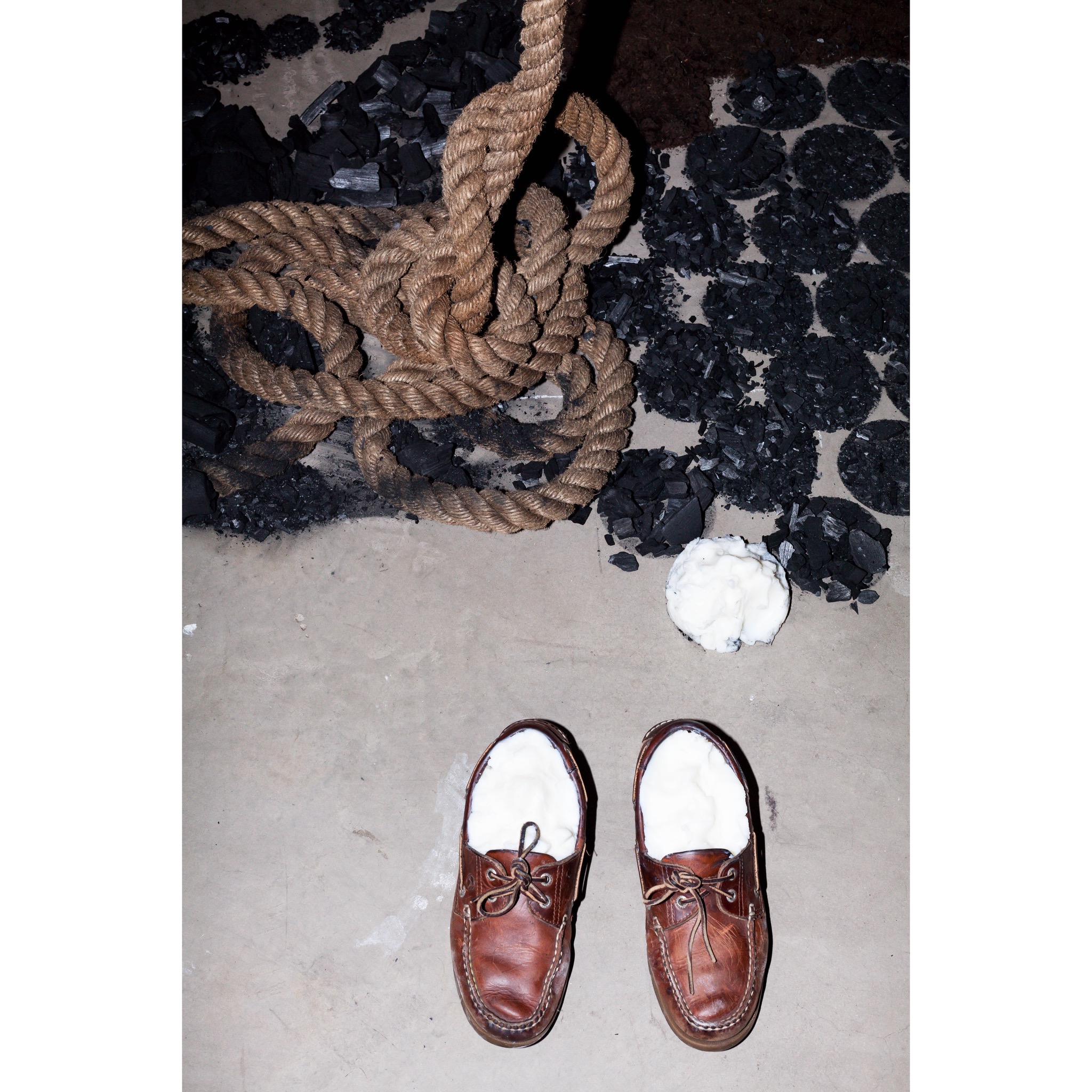 Photography © Ben Lansky & Anni Katrin Elmer
Infinity Room, 2017
Installation
Paint, flexible mirror, paper, rope, war rescue stretchers, oil paint
Dimensions variable
2017
A room. Binary code. Repetition of sequence 0 and 1; + and -. Same message. The message is never revealed, only the process where the viewer is turned into the negative in the infinity and repetition of image. The feeling is the only image that matters. The room, the sequence and the viewer change with the natural light from dawn to dusk.