02/06/2022
Group Exhibition
SALON Summer Group Show
3rd - 30th June, 2022
TSIVRIKOS SHAKE GALLERY
97 New Bond Street, London, W1J 1EU



18/11/2021
Group Exhibition
METAMORPHOSES
18th November 2021 - 4th January, 2022
NEON GALLERY
97 New Bond Street, London, W1J 1EU





17/05/2021
Group Exhibition
MYTHOLOGIES
20th May - 21st June, 2021
NEON GALLERY
193 Piccadilly, London, W1S 9EU






24/09/2020
Group Exhibition
KINESIS
24th - 30th September
Sunday 12-5pm; Mon-Wed 11-7pm
NEON GALLERY @ The Koppel Project Central
49 Poland Street, London, W1F 7ND
Opening night: 24th September 2020, 6-9pm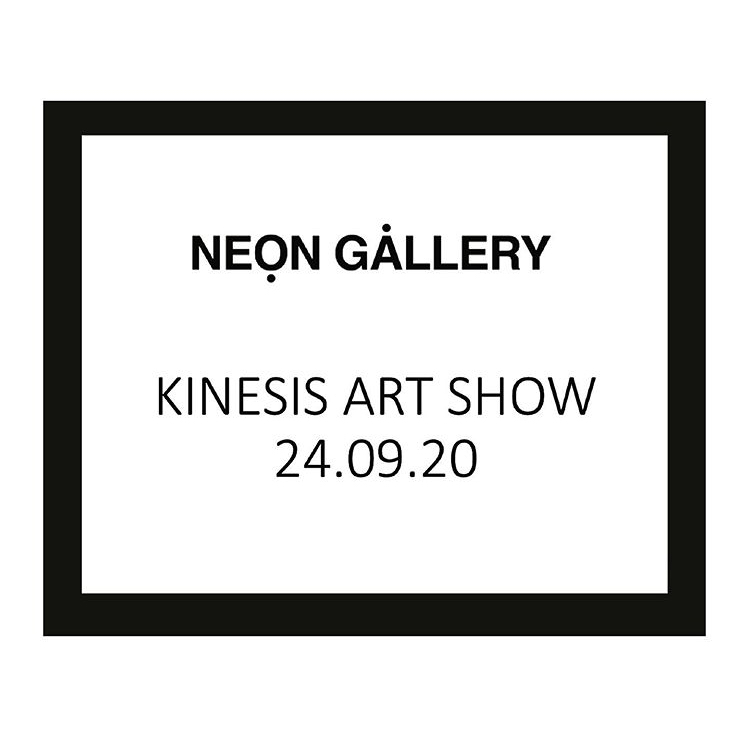 23/10/2019
Exhibition
Palingenesis
SET SPACE (Lewisham)
London, SE13 7RZ
23rd October 2019, 5-9pm





18/10/2018
Performance
Whitechapel Gallery Presents 02
18th October, 2018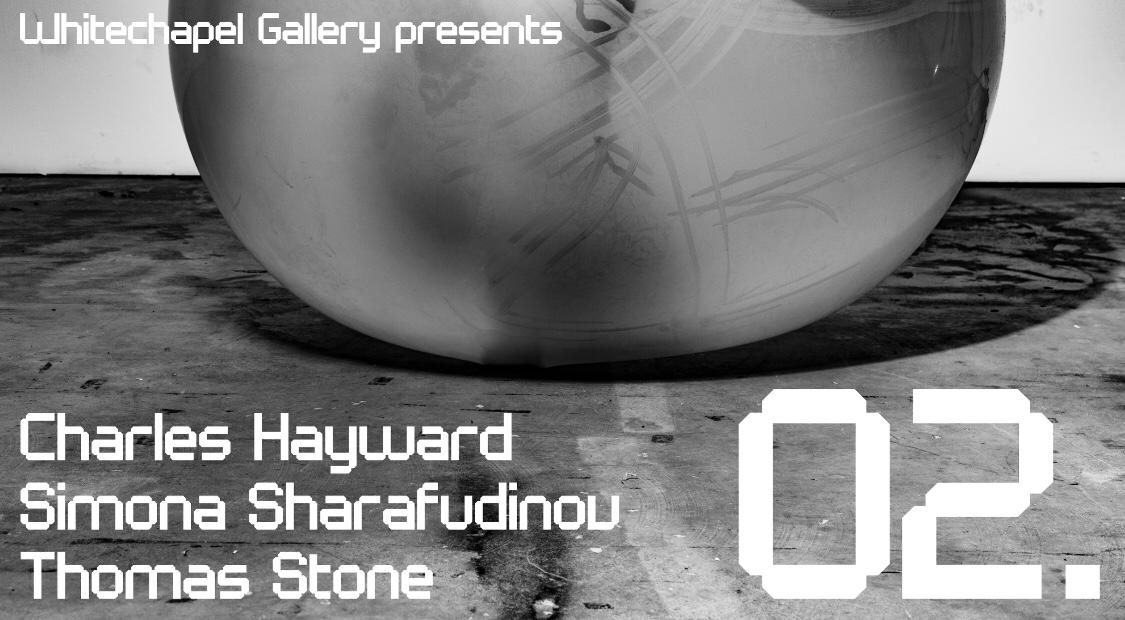 27/06/2018
Exhibition in Italy
ASTRA Volume I: Spoleto residency
30th June & 7th July, 2018




27/05/2018
Residency in Italy
ASTRA Volume I: Spoleto
14th-19th June, 2018




26/03/2018
Exhibition
SPACE-HONEY at Safehouse 1 28th-31st March 2018. Private view on 28th March 6-9pm.
Safehouse 1, 139 Copeland Rd, London SE15 3SN
http://somethingcurated.com/2018/03/22/space-honey-takes-over-peckhams-safehouse-1/



5/01/2018
Exhibition
ONE NOT BE A CHAMBER// EXPOSED ARTS PROJECTS
6 Drayson Mews
London, W8 4LY
Opening Night Performance 25th January 18:00-21:00
Exhibition runs until 10th March, 2018




7/12/2017
Performance
SPLEEN// Burlington Camden
90-94 Baynes Street
London, NW1 0TZ
7th December 18:00-21:00





07/10/2017
Delighted to have been featured in the November issue of Harper's Bazaar Women in Arts feature with fellow Studiomakers contemporaries Fani Parali, Jade Blackstock, Natalie Kynigopoulou and Jiaqing Mo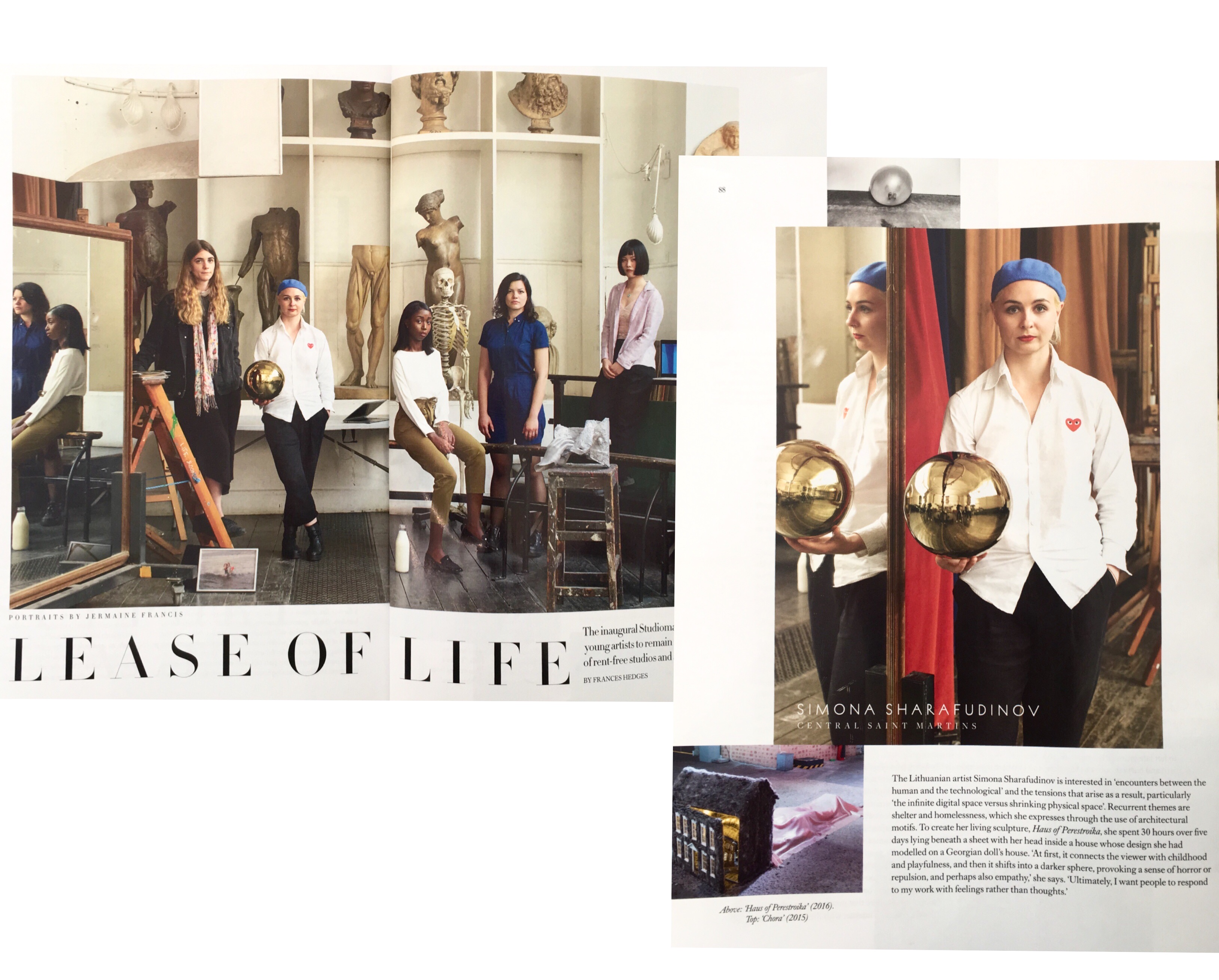 06/09/2017
Feeling incredibly lucky to have been selected as the 2017 Central Saint Martins recipient of Tiffany x Outset Studiomakers Prize





10/06/2017
Exhibition in France
S U R V I V E ! // 5 rue de Guienne, BORDEAUX
16-25th June 15:00-20:00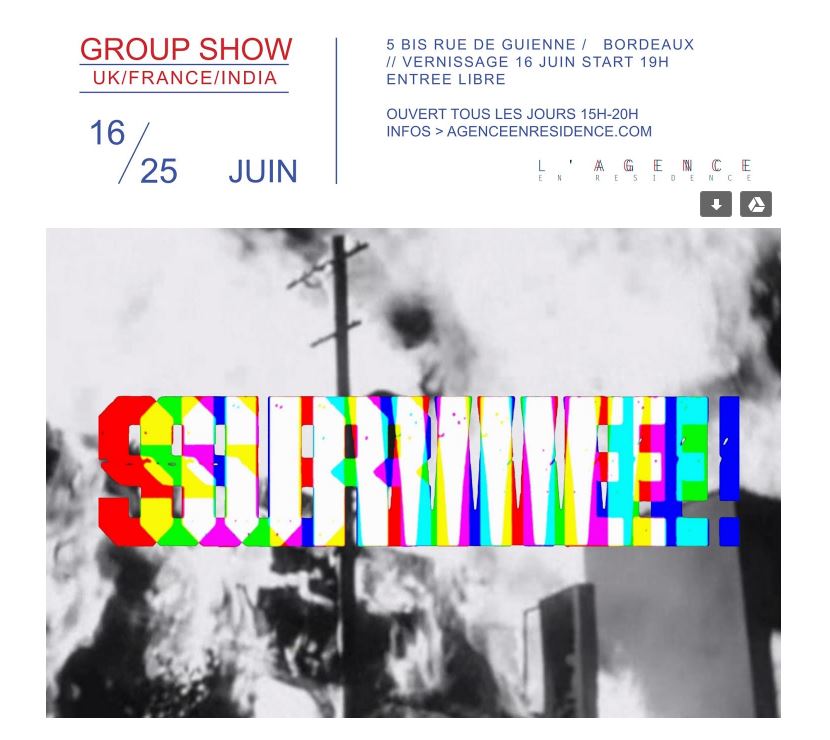 26/05/2017
Take Five: Simona Sharafudinov // CENTRAL SAINT MARTINS NEWS
A feature from Central Saint Martins about Father, 2017 work and the inspirations behind the work.
http://blogs.arts.ac.uk/csm/2017/05/26/take-five-simona-sharafudinov





23/04/2017
' CENTRAL SAINT MARTINS SHOW ONE ' // SIMONA SHARAFUDINOV (Final Degree Show)
Details:
Times: 24-28 May, Weds to Fri: 12 - 8pm, Sat to Sun: 12 - 5pm. Last entry: 30 mins before closing.
D SPACE: Through the college gates, first right
Location: 1 Granary Square, King's Cross, N1C 4AA not the Granary Square, N1 in Islington.
Transport + map: Find us
The show is free and open to the public, no need to book.





23/04/2017
Exhibition in Mexico






01/12/2016
Exhibition in France
' T H E R E A R E N O B O R D E R S I N D R E A M S ' // S I M O N A S H A R A F U D I N O V (solo show)



PERFORMANCE & Openning of the exhibition

On Friday, December 9th, 2016 from 7pm
Laboratoire BX, 4-bis rue Buhan,BORDEAUX, FRANCE


L' A G E N C E E N R É S I D E N C E ( B O R D E A U X , FRANCE ) :
For the 2016-2017 season, the l'Agence en Résidence, has implanted itself in the center of the capital of Gironde, Bordeaux, in order to provide a window to new contemporary art practices. Focusing on new media, new forms and new audiences, the ambition of the l'Agence en Résidence is to provide quality cultural content through curious and accessible cultural programming. In the heart of Bordeaux, L' Agence en Résidence, invites you every month to discover a guest country through original works by an invited international artist-in-residence. Guest Country: U-K !


S I M O N A S H A R A F U D I N O V ( L ON D O N ) :
'The strange and the familiar, the self and the other, the real and the imaginary, the immigrant and the citizen...'

Simona Sharafudinov (Master Degree / Central Saint Martins College of Art & Design UAL) practice explores areas of conflicts and paths where societal norms are confronted. Resistances, obsessions and prejudices that arise from these oppositions nourish her performance, film, installation and photographic works. The result is an artistic proposition, where through the finesse of staging, the space in time tests boundaries of our subjectivity and highlights hidden ideas and repressed thoughts...)
There are no borders in dreams, Performance & Installation from 09/12/2016 to 23/1


Venue / Laboratoire BX, 4-bis rue Buhan,BORDEAUX, FRANCE
Opening Hours / WEDNESDAY SATURDAY, 11am-7pm -SUNDAY 4pm-7pm / Free admission
Tram / Ste Catherine
Site / agencenresidence.com
Contact / L'Agence en Résidence / agenceenresidence@gmail.com

L'AGENCE EN RESIDENCE / THERE ARE NO BORDERS IN DREAMS . DEC 2016/ partners:






15/11/2016
Exhibition
CSM ART AUCTION 2016 // Lethaby Gallery, Central Saint Martins, Granary Building, 1 Granary Square, London N1C 4AA
17th November 17:30-21:00





10/03/2016
Exhibition
thisisanartshow.jpg // HTH Arts Centre, The Broadway, London N8 9JJ
16-22nd June 10:00-17:00






10/03/2016
Exhibition
MA INTERIM SHOW: Our Laughter Will Drown Your Sorrows // The Laundry, 2-18 Warburton Road, London E8 3FN
18-20th March 11:00-17:00