Haus of Perestroika, 2016 (30 hours)
In conceiving the work I reimagine the city and habitation of tomorrow by physicalising the fear of homelessness. Using sensual materials, disproportion and bodily rhythm to edge between play and danger, the viewers are invited to consider an outmoded human body within technological systems. This work was performed for 30 hours over a period of 5 days.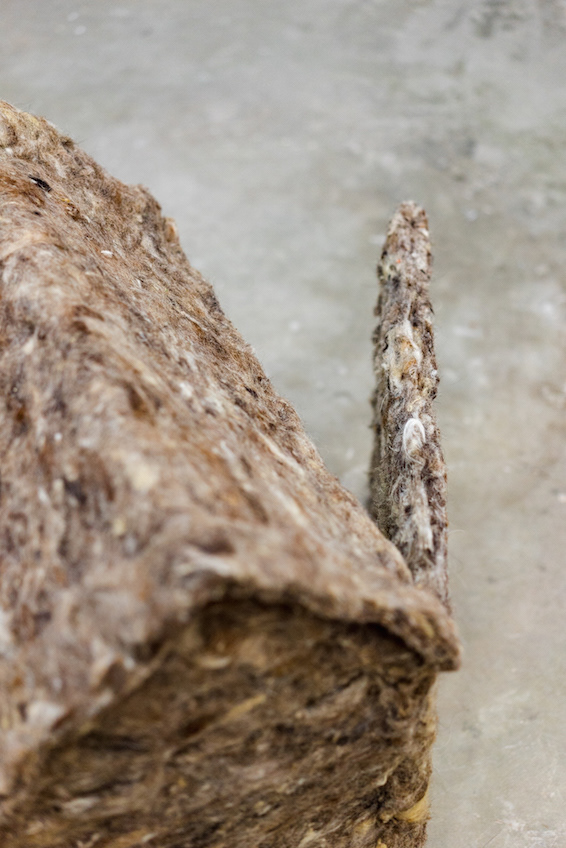 Father, 2017 (30 hours)

Existing in an age of technocapitalism, which renders a body into a mechanical and scientific property and objectification, the artist returns to a recurring theme of exile and dwelling.
The work sculpturally adapts a power symbol of the gold tower. Using the ancient Japanese method Shou Sugi Ban of wood burning to transgressively create its fall, leaving the charred monolith as a monument of our time.
In the frame of black box, the body is installed as a medium for photography, to move away from ubiquity of representation and flat imagery into a process of performativity, where the body becomes a surveillance machine. Clad in a Janus tribal helmet mask, military fighter overalls atop second skin morphsuit covering every inch of human skin, this epicene performer shifts from humanoid gestures, to personifications of VR and CCTV systems, the golden gazing ball in its hands follows, mesmerises and absorbs the image of every spectator.

Lot #83, 2016 (with Julia Wolf)

The costume and performance was a response to the sound piece created by artist Julia Wolf and the 10th Annual Central Saint Martins Art Auction at the Lethaby Gallery. The auction presented 82 lots of wall-based artworks. Combining sound and performance - art forms that spill out of the frame and transgress the limits of the image and wall space. Matching impalpable with corporeal, humorous with terrifying, to bring about questions and invite viewers to consider the value of artists and limitations of a marketable art.
Envoi, 2016 (30 hours)
Conceived for and during a month-long L'Agence en Residence residency and exhibited in a solo exhibition in Bordeaux, France. The work was made to exist within a triad of architectural, technological and bodily elements and explore the interaction between the elements and their co-existence in space. The tension that ensued was held by repetitive action, sound and durational performance performed for 30 hours over 5 days.
Named after a poem by Ocavio Paz, the work is a reaction against idealism and a response to the horror of existence, lives lost and shell-shocked into statue-like states by means of technology. Bringing into play a 160 degrees spherical view of a peephole, aesthetically clean, little glass eye, commonly used to protect, screen, as a border between private/public, inside/outside, surveillance/entrapment. The mirrored cube, a phantasm of the ubiquitous square frame where self-reflection takes place, shifting between a funhouse and a peepshow. The audience and its privilege floats upon the reflective surface of a mirror skin. It is this very surface that makes the "exhibition" disappear questioning the space as a protective enclave and the [il]legality of visibility. The choice when to turn away is the privilege.

"The eye was first taken on entering the gallery by light reflections and distortions of mirror. It was playful and beautiful but hinted at subterranean disquiet. As you moved closer, curious to look through the peepholes you saw what was contained inside the reflected cube. Simona - her body transformed into a distorted fungal growth, eyes alive with the memory of terror, strung on a wire, electric and banal in a room of wool, felt and rotting ham hanging from butcher's hooks. It was a work that fully understood how to lead the eye to the central horror of existence whilst children played on the outside hilariously contemplating themselves in the distorted mirrors that made up the cube."
​​​​​​​
Disappointment, 2018 (3 hours) 
(with Aaliyah, Giovanni Vetere, Klara Schumann, Lucrezia de Fazio, Claire Pearce)

A site-specific installation and performance at Exposed Arts Projects. The work centred around an image, be it found, made, edited and explored the work of photography as a focal tool in the process of confrontation between past, present, future and between idenity, heritage and exile.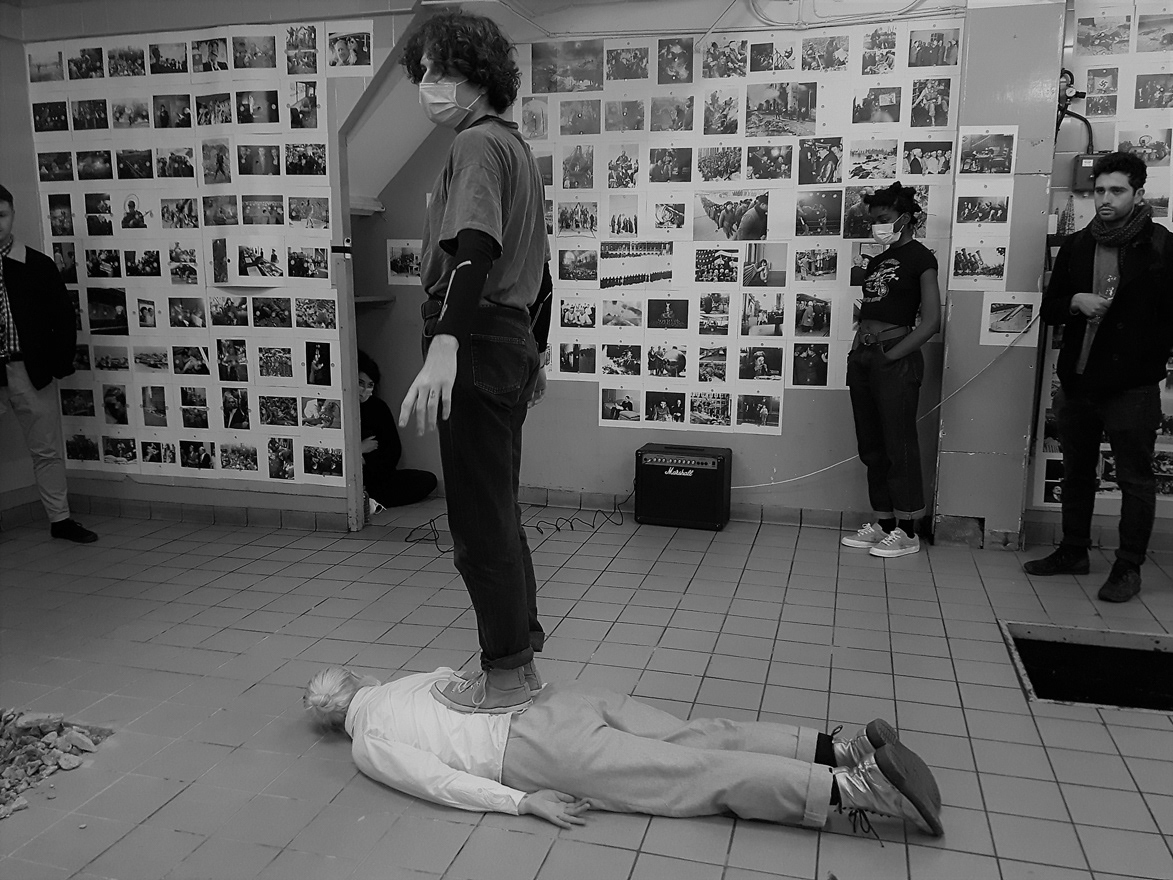 _Denial_ , 2018 (with Julia Wolf, Jessie Hands)

Inspired by gendered power dynamics and various forms of oppression, the work fused sound, dance and video work to create a place in time, where memory is revisted, and where resistance, fear and defiance is challenged and denied at the same time through unnerving and unrealiable narrative.The work was created for the Whitechapel Gallery Presents series and presented at the Whitechapel Gallery on the 18th October 2018.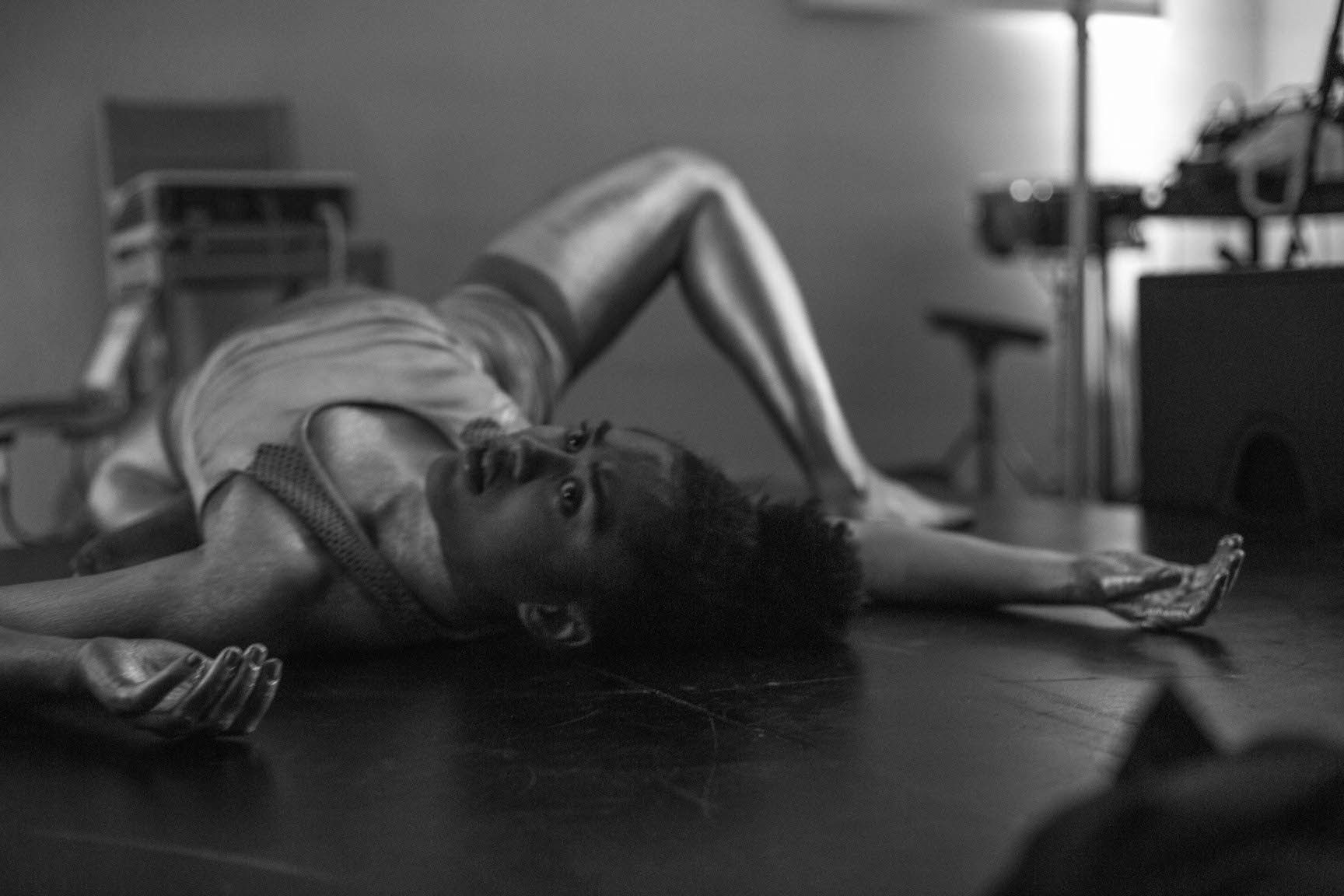 Spleen Performance, 2017 (3 hours)  
(with Aaliyah, Carolina Escobar, Nevena White, Emily Poynton)

Inspired by Baudilaire's Spleen and taking photography as a point of departure where the proces supersedes content, The work attempts to look at a technological process within human relations. Faced with a technological structure which both underlines and diminishes a structure of a social circle, repetition, isolation of language and binary symbolism is used through durational performance to zoom in on daily gestures and codes of technology that make up the cycle.
Gestures and echoes of: "like" "block" "delete" "follow" from performers are like those of the Greek chorus commenting on the collective consciousness of our time. Matching historically valued and invested materials, forms and motifs with contemporary matter, from gold and Oedipus feet to where thumbs, hands and heads dominate the body...Here, body and language are tools as much as inconveniences, sacrificed for an image. The desire to possess and leave a mark is as much desired as never acquired.

The exhibition was hosted by Lincoln Projects.
Burial of the Dead, 2017 (4 hours)

Created during a period of grief, the work is an elegy to the artist's late friend Alice de Barrau. Installed ceiling to floor and realised as a 4-hours enduring performance. It sculpts the space using geometrical shapes and decaying materials to allude to mortality and transience of life.Its shifting perspective, impolite occupation of space and fierce bodily tension presented in performance interrupts and obstructs the flow of reason. 
Chora, 2015

According to Julia Kristeva, Chora is a stage in the human psychosexual development where one is closest to the pure materiality of their existence. The work re-imagines Chora as a technological rather than a biological organism, where both organisms live inside each other. Uniting human and artificial materials in the form of flesh, the artist's body and skin-like material latex, it attempts to bridge boundaries between human and technology matter. In its process the work reveals limitations of pure materiality and enduring needs of both organisms, their dependence on connection and clean air.